back to calendar ›
McLovins & One Time Weekend
Infinity Norfolk
DETAILS
Sat, April 29, 2017
Norfolk, CT
Show at 8 PM
Ticket INFO
Price: $19 - $29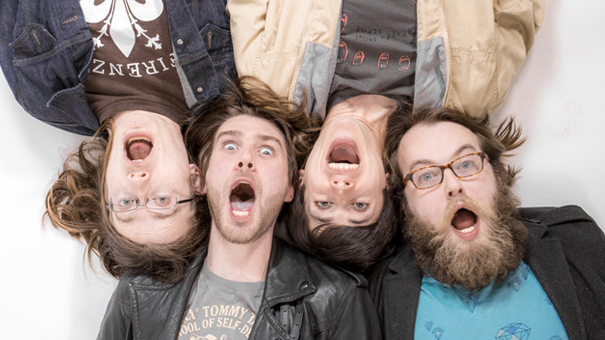 The McLovins are making their long awaited return to the Infinity Hall Norfolk stage! Expect a night of dancing to some funky jams, toss in some bluesy rock and jazz fusion, and you have a night of some great tunes! Joining them is One Time Weekend, a bluesy rock funk band that really breaks the mold and pushes the envelope on some serious guitar riffs and dance beats. Looking for a fun night in Norfolk to dance and enjoy some great new music? Look no more! Grab a pair of tickets now and come join us for this party and support local live music!
McLovins
Video:
Artist Bio
McLovins is a group of four fine and talented gentlemen based out of Hartford, Connecticut.
Fronted by lead singer Jake "The Drummer" Huffman, the group is anchored by bassist (and tireless tour van driver), Jason Ott. Guitarist Justin Berger and keyboardist Atticus Kelly complete the ensemble with their boundless instrumental mastery. The boys have played with a diverse group of artists, including 90's rock luminaries The Gin Blossoms, Buddy Guy and funk legend George Porter Jr. of The Meters.
McLovins draw upon contemporary pop styles and traditional rock to create "get up and dance" music that gets their audience truly engaged. Their live show is a party atmosphere that showcases the band's songwriting with a healthy dose of group improvisation led by heartthrob guitarist Justin Berger.
Guided by their overly qualified producer Bill Sherman (of Hamilton and Sesame Street fame), McLovins continue toraisethebarforthemselveswitheachalbumrelease. Following 2015's self-titled "McLovins," the group is aiming for a 2017 release slated for the holiday season.
Once described as their field's youngest seasoned veterans, the boys spend half of the year in a van touring around the country (and someday, the world).
One Time Weekend
Connect with this artist:

One Time Weekend formed their groove in Collinsville, CT. Members Ben Sullivan, Ian D'Arcangelo, Adam Eytan, and Zach Mulcahy combined their talent to form a fresh youthful vibe influenced by artists such as John Mayer, The Allman Borthers Band, Stevie Wonder, Julian Lage, Snarky Puppy, Twiddle, and various artists both past and present. The newly formed group has written many original songs that feature their funky, jazzy, rap, and reggae tastes while adding complexity to the mix, creating their own unique sound. When their music starts to tickle your ears it'll make you wanna boogie down and shake ya tail feathers to the groove!
Video:
---
buy tickets

for this show ›