back to calendar ›
NRBQ New Year's Eve Party
Norfolk
DETAILS
Mon, December 31, 2018
Norfolk, CT
Show: 9 PM
Ticket INFO
Price: $34 - $125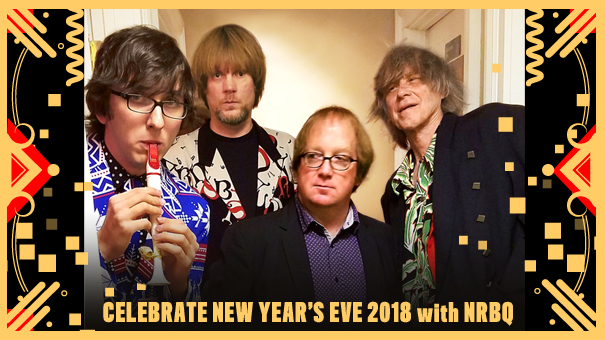 NRBQ will be celebrating New Year's Eve at Infinity Hall! Let's all bring in 2019 with one our favorites here in Norfolk. Great musicians, great songs - Ridin' In My Car", "Me And The Boys", "RC Cola And A Moon Pie," "Wacky Tobacky" and on and on . You know the band, you know the hits and we all know it'll be party time when Connecticut's own NRBQ hits the stage!! Come bring the family and celebrate the holiday with us. Tickets will go fast for this show!
Make it a special evening with our DINNER AND A SHOW MEZZANINE PACKAGE! Includes Mezzanine ticket, 3 course pre-fixe dinner at your mezzanine seat, champagne toast, gratuity, taxes and fees. Alcohol and drinks not included. $125/ticket
Click here to see dinner menu.
4:30p - 10p Bistro open
8p Doors open to the music hall
9p Live Acoustic Music in the hall followed by NRBQ. Champagne Toast at midnight.
NRBQ
Video:
NRBQ is Terry Adams, Scott Ligon, Casey McDonough, and John Perrin. "NRBQ" stands for New Rhythm and Blues Quartet. The band's music, a rollicking blend of everything from stomping rockabilly to Beatles-influenced pop to Thelonious Monk-inspired jazz, has attracted fans as diverse as Elvis Costello, Penn & Teller, R.E.M., SpongeBob SquarePants, Ian McLagan, She & Him, Wilco, Widespread Panic, Nick Lowe, and indie-rock band Whitney. NRBQ songs have inspired cover versions by Bonnie Raitt, Los Lobos, Darlene Love, and Dave Edmunds, among many others.
In addition, the group served as the unofficial "house band" for The Simpsons for the Season 10-12 period.
NRBQ has released a series of critically-acclaimed albums in recent years, among them Keep This Love Goin' (2011), Brass Tacks (2014), and last year's 5-disc, 50-year retrospective, High Noon. Of the brand new Happy Talk EP, the Nashville Scene says, "…ties the pursuit of eternal youth to the idea of timeless rock 'n' roll." As the song says, "You've got to have a dream, if you don't have a dream, how you gonna make a dream come true?"