For Hincks, music is a passion and growing business
BY Stan Simpson
5/1/2017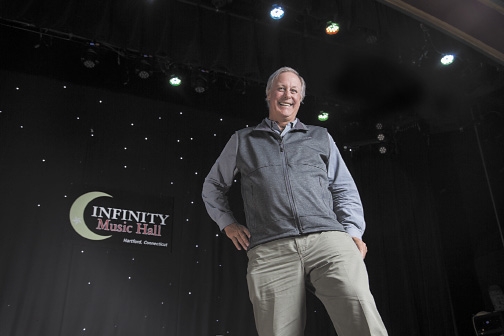 PHOTO | Steve Laschever
Farmington businessman Dan Hincks' passion for music led him to open two music venues in Connecticut that play host to a number of world-renowned acts. Hincks is shown on the stage of his Infinity Music Hall in Hartford, which opened in 2014.
Sitting on an oversized leather couch in a spacious upstairs green room, Dan Hincks reflected on his life journey — and the special role music has played.
"I love business, I love music, and I love people,'' said Hincks, CEO of Infinity Music Hall & Bistro. "And this allows me to be around all the things I love every day."
It's quite a long day for this early riser — he's up at 6 a.m. daily — entrenched in an industry ideal for late owls. Infinity Hall has two locations — Norfolk opened in 2008; the Hartford business started in 2014. Together, both host about 400 live concerts per year. Sales exceed $5 million from demographics ranging from age 25 to 60-plus and paying from $14 to $100 a ticket.
Hincks juggles those leadership duties while also being CEO of Data Management Inc. The Farmington-based, family specialty-printing and software development firm was started by his late father Bob in 1961. Dan Hincks took over in 1991 and Data is now an international operation. Running the firm allowed him to sock enough money away to start what for him is a labor of love. These days he spends about 70 percent of his time with the Infinity brands.
"I was searching to add new dimensions to my life,'' said Hincks, recalling the 2008 opening of Infinity Norfolk. "Something that I could look back on and feel good that I was providing (something) to society in a larger context, but also something that I would love."
He saw a void for the "intimate medium-size places that could support high-quality artists, while providing a listening experience and good food.''
Infinity — a word Hincks defines as "endless possibilities" — was formed.
Hincks, 62, was reared in Farmington surrounded by music. He plays the guitar and piano, but not professionally. Mom Polly, now deceased, was on the board of directors of the University of Hartford's HART School of Music; his father also enjoyed listening to music. An older brother, Rob, is a singer/songwriter in North Hampton, Mass. Hincks remembers growing up in a home in which musicians were frequent guests, engaged in robust conversations.
His degree in English from the University of Hartford and an executive education diploma from Harvard also shaped the perspective of this married father of two children, who has two grandkids and loves any activity associated with the outdoors.
While searching for something new in his life, he told his wife Sarah about a dilapidated circa-1883 opera house in Norfolk that needed extensive repairs. It eventually became home to Infinity Norfolk. As business grew, Hincks found himself again thinking of Hartford. It's a place he sees as "full of arts and full of character."
In the Capital City, he converted three years ago an empty shell located in the Front Street Entertainment District into a two-story, 18,000-square-foot facility, with a 500-seat music hall, 100-seat bistro, plus additional patio and mezzanine seating. "We feel like we're playing a very important part of the revitalization of Hartford," said Hincks. "We're one good reason to bring thousands of people into town each week. We're kind of a critical component of Front Street.''
Located near the I-84 and I-91 intersections, Infinity Hartford is across the street from the Connecticut Convention Center and near UConn's new downtown campus. For the past several years, both Infinity businesses have been named Best Music Hall by a local magazine and online publication.
Hincks is quick to point out that Infinity is not just about concerts and eclectic artists — including Tower of Power, Maceo Parker, Average White Band, Graham Nash and Javier Colon. Revenue is generated from the restaurant, an emerging specialty events business that offers corporations and nonprofits concert hall space for their outings, and corporate sponsors, who want to attach their names to signature events.
Though Harvard contributed to his business acumen, Hincks' management philosophy is layman-simple.
"You really need to provide a high-quality product that people want — and stay true to that,'' he said. "Don't let anything reduce the expectations of yourself. You want to surprise people with the quality of your operation, make people have a really great time and [exceed] their expectations."
The level of quality, he says, applies not only to the artists, but the sound managers, stage hands, restaurant workers and ticket takers. "We're in the hospitality business," Hincks said. "We need all the people that work here to love their job. If they are happy and love their job, it will come through to the customers.''When it comes to attracting artists, Hincks' strategy is also not very complicated. Besides fair compensation, he says, musicians are looking for three things: "Great sound (acoustics). Great audiences. Great food."Of course, the same could be said for the customer.
Stan Simpson is the principal of Stan Simpson Enterprises LLC, a strategic communications consulting firm. He is also host of "The Stan Simpson Show," on Fox 61.
---
Comments: