back to calendar ›
An Evening with Vicente Fox former president of Mexico Presented by World Affairs Council of CT
Hartford
DETAILS
Fri, November 01, 2019
Hartford, CT
Doors: 6:30 PM
Show: 7:30 PM
Ticket INFO
Price: $55 - $150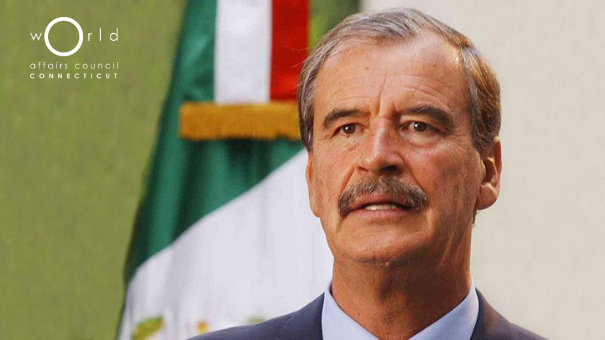 Fiery. Outspoken. Uncensored.
Vicente Fox comes to Hartford
From the border wall to alligator moats,Vicente Fox, the controversial former President of Mexico, has no end of fiery and comedic takes on the latest from the U.S. White House. An ongoing feud with President Trump, his own (fake) candidacy for the U.S. 2020 presidency, a long view on the future of the U.S.-Mexico relationship, and not to mention an avid supporter of cannabis legalization, be in the room as President Fox covers it all.
Join us before the show at 6:30pm to enjoy chips & salsa, signature tequila drink, Mexican beers, and great company as we gear up for a conversation with firebrand Former President of Mexico, Vicente Fox.
Be in the room for an intimate conversation with Vicente Fox, President of Mexico (2000-2006). Join us for Mr. Fox's candid perspective and analysis on some of today's most contentious issues impacting Mexico, the United States, and the world.
VIP Experience - Meet and Greet add-on: $150 (Does not include admission)
9pm – 9:30pm


An Evening with Vicente Fox former president of Mexico Presented by World Affairs Council of Connecticut
Artist Bio
Vicente Fox Quesada was born on July 2, 1942. He grew up at Rancho San
Cristobal in Guanajuato, a communal land, where the only difference between
him and his childhood friends were the opportunities he had. From his childhood, he always
remembered the struggles that came with poverty, and how they could be avoided.
He studied Business Administration at the Universidad Iberoamericana, and
later he received a Top Management Diploma from the Harvard Business
In 1964 he joined the Coca-Cola Company in Mexico and started from the
bottom; through his perseverance he became President of the company for
Mexico and Latin America.
He served as President of Mexico from 2000 to 2006. He was the first
candidate from an opposition party to be elected president.
Nowadays, he is actively involved on encouraging leadership and creating
opportunities for underprivileged people through his organization,
---
buy tickets

for this show ›