back to calendar ›
Big Eyed Phish - The Dave Matthews Band Tribute
Hartford
DETAILS
Sat, January 20, 2024
Hartford, CT
Doors: 7 PM
Show: 8 PM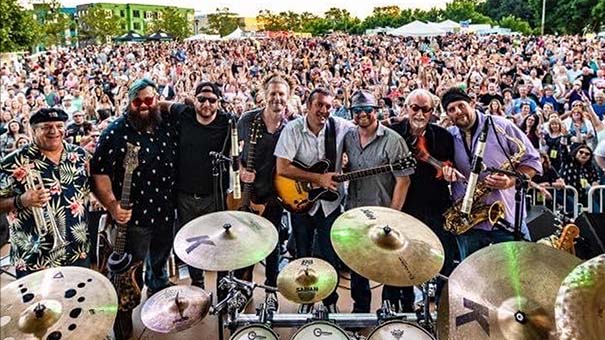 Big Eyed Phish
Artist Bio
Based out of Rochester, New York, BIG EYED PHISH is the only touring full 8-piece Dave Matthews Band Tribute in the country. In the 14 years they have been performing together, they have grown to become a highly sought-after headlining act for festivals, resorts, casinos, and live music venues. The band is led by Benjamin Sheridan and he is backed up by an engaging band of professional musicians. They are also the only DMB Tribute that has a full time keyboard, lead guitar, trumpet, and violin; this allows them to be the only fully accurate DMB Tribute in the country - able to cover the full spectrum of the catalogue throughout the years!
Members:
Benjamin Sheridan (Dave) - Lead Vocals, Guitar
Jimmy Grillo (Carter) - Drums
Dan Merkey (LeRoi/Jeff) - Saxophone, Backup Vocals
Shawn Rotolo (Stefan) - Bass Guitar
Mike Hoeschele (Boyd) - Violin, Backup Vocals, Harmonica
Brian Dudiak (Butch/Buddy) - Keyboard, Backup Vocals
Jon Sheffer (Tim) - Lead Guitar
Bob Viavattine (Rashawn) - Trumpet
BIG EYED PHISH continues to be one of the most sought-after DMB Tribute acts in the country. Each show is unique with a blend of mega-hits to dance to as well as some deep tracks for the more dedicated fanbase. There are 100+ songs in their catalogue, combining Dave Matthews Band's original tunes with some of the popular songs the band is known to cover. This tribute band gives much more than just a recreation of the songs from an album, and focuses their efforts to truly put on a show that mirrors the famous atmosphere of a live Dave Matthews Band experience. Their live show is a high-energy driven audio and visual experience, intending to immerse the audience in a feeling of seeing and hearing the real band while enjoying the more intimate nature of tribute band performances. The energy they bring to the stage is unmatched, and the band is often hired for headline slots and given top billing as a nationally touring act. From the incredible musicianship, the soulful lyrics, the rocking solos and jams, and even the witty stage banter Dave Matthews is known for - BIG EYED PHISH delivers on all aspects!
---
buy tickets

for this show ›