back to calendar ›
David Cook
Norfolk
DETAILS
Sun, November 11, 2018
Norfolk, CT
Show: 7:30 PM
Ticket INFO
Price: $39 - $64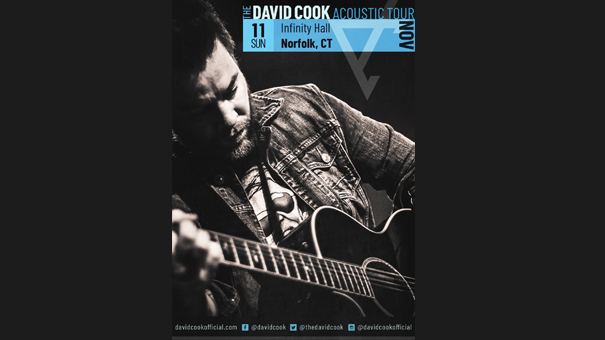 Click on the video… Go ahead… I'll wait. You know the hit "Light On," well, American Idol winner and Platinum-Selling recording artist David Cook is bringing those thunderous pipes of his to our Norfolk stage!! Since winning American Idol, David's been rocking venues all over the world. Don't miss this one as he tours the release of his new record "Chromance"
VIP ADD ON! Limited # of VIP Meet & Greet Add On Tickets Available. $50/person Your VIP ticket includes:
- Meet & Greet with David Cook
- Photo with David
- Early access to show (Time TBD)
VIP Meet & Greet does NOT include a concert ticket. A separate concert ticket is required for all Meet & Greet ticket holders.
David Cook
Video: