back to calendar ›
Forward Festival in Concert: Sybarite5 with Sara Chase, Rupert Boyd and Full Force Dance Theatre
with Sara Chase
Hartford
DETAILS
Sun, May 24, 2015
Hartford, CT
Show: 7 PM
Ticket INFO
Price: $19 - $50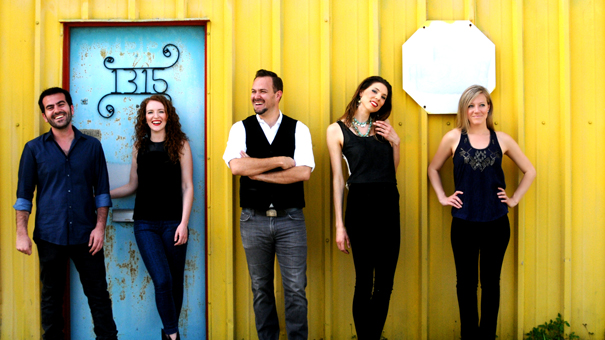 The culminating event of the 2015 Forward Festival presented by acclaimed string quintet Sybarite5, this concert features Sybarite5 with singer/actress Sara Chase, guitarist Rupert Boyd, and the Full Force Dance Theatre, as well as the Connecticut Children's Choir, for an unforgettable evening of exciting musical collaborations. From cutting-edge Radiohead songs, to virtuosic classical chamber music, to timeless and beloved standards, this concert is sure to entice and surprise all music lovers alike.
STUDENT TICKETS: Please use the Promo Code "STUDENT" at checkout and receive $12 tickets (does not include taxes & fees). Please bring student ID with you to Box Office when picking up your tickets!
VIP MEZZANINE TICKETS include preferred seating, a complimentary glass of champagne (21 yr. and over only) and a Meet & Greet with the performers. $50 per ticket (plus taxes and fees)

SYBARITE5, CHAMBER MUSIC'S "ROCK STARS," TO PRESENT FESTIVAL IN HARTFORD, CT MAY 19-24, 2014
"Forward Festival" will feature West Hartford native Sara Chase, other guest artists
New York -- Sybarite5, the groundbreaking string quintet that has attracted national attention for its electrifying interpretations of music from Mozart to Radiohead, presents its multi-day Forward Festival in Hartford in May. The event, which incorporates the talents of a number of local and homegrown artists, culminates in a concert at Hartford's Infinity Music Hall on May 24. The festival also includes an intimate opening performance at Real Art Ways, along with outreach engagements at local schools and retirement communities.
The Forward Festival, the world's first portable chamber music festival, launched in 2014 in Sarasota, Florida. It is designed to highlight the cultural vitality of the communities it visits, and to present concerts in an energized, accessible style.
Guest artists for the Hartford festival include the celebrated singer/actress Sara Chase, who grew up in West Hartford; dancers from Hartford's Full Force Dance Theatre; the Connecticut Children's Chorus Concert Choir; and internationally acclaimed classical guitarist, Rupert Boyd. Sybarite5's cellist, Laura Metcalf, also hails from West Hartford and is a Conard High School graduate.
Richard Storm of the Sarasota Herald-Tribune said of the inaugural Forward Festival: "It should be no surprise that Sybarite5 brought their usual mix of fierce energy, tonal beauty and intellectual challenge to the finale of their Forward Festival."
Sybarite5, (sybarite5.org), which has been earning rave reviews for performances throughout the United States and abroad, played a sold-out concert in Hartford last February at the Hartt School's Garmany Chamber Music Series.
Sara Chase has been enjoying multiple successes as a singer and actress. Among her recent triumphs are appearances in the Broadway shows "First Date," and "The Toxic Avenger." She is also a featured character in Tina Fey's new comedy series "Unbreakable Kimmy Schmidt," debuting this season on Netflix.
Sybarite5 Presents: Forward Festival
May 19-24, 2015
Tickets at www.forwardmusicfest.org
Tuesday, May 19 @ 7pm
Forward Festival Kickoff
Real Art Ways
50 Arbor St. Hartford
Featuring Sybarite5, Rupert Boyd and Sara Chase
Reception to follow
$25 general admission seating (limited)
$20/15 seniors/RAW Members
Sunday, May 24 @ 7pm
Forward Festival in Concert
Infinity Music Hall and Bistro
32 Front Street, Hartford
Featuring Sybarite5, Sara Chase and Rupert Boyd, and Full Force Dance Theatre with a special appearance by the Connecticut Children's Choir
$50 VIP admission (includes preferred seating, free champagne and artist meet-and-greet)
$25 general admission
**2-Concert VIP Pass**
Includes preferred seating at both concerts, free champagne and artist meet-and-greet at Infinity, and free admission to open rehearsal of festival artists - $90
Sybarite5
Video:
Artist Bio
"Their rock star status…is well deserved. Their classically honed technique mixed with grit and all out passionate attack transfixes the audience..." That is how The Sarasota Herald Tribune described Sybarite5, the first string quintet ever selected as a winner of the Concert Artists Guild International Competition. Comprised of Sami Merdinian and Sarah Whitney, violins; Angela Pickett, viola; Laura Metcalf, cello; and Louis Levitt, bass, Sybarite5 has taken audiences by storm all across the US, forever changing the perception of chamber music performance. From the moment their bows hit the strings, this quintet of talented, diverse musicians takes the audience on an exciting ride that engages the senses and redefines the rules.
From Mozart to Radiohead, Sybarite5's eclectic repertoire and dynamic performance style is turning heads throughout the music world: "…that impassioned playing, those hard-driving rhythms, the blissed-out faces of the mostly young audience…Genuine, spontaneous…excitement" (The Washington Post). The Quintet's debut EP disc Disturb the Silence, featuring music by Radiohead and Piazzolla, plus two original works written for Sybarite5, was released in spring 2011 and quickly reached the top ten on the Billboard charts. The group's follow-up CD, Everything in its Right Place, is a continuation of the Radiohead Remixed Project and was released in November 2012 on the CAG Records label.
The group visits fifteen states during the 2014-15 season, with featured performances on Wolf Trap's Chamber Music Series, Cliburn Concerts' 'Cliburn Sessions' Series, Detroit Symphony's 'At the Max' series, Anchorage Concert Association, Iowa's Grinnell College and Luther College, Ferst Center for the Arts at Georgia Tech, Weber State University (UT) and Samford University in Birmingham, AL, as well as Sybarite5's own residency at the cell theatre in New York City. Summer 2014 festival appearances include Caramoor Summer Festival and Wisconsin's Green Lake Festival, following up on recent US festival concerts at The Aspen Music Festival, The Chautauqua Institution, Strings In the Mountains, Sybarite5's Forward Festival, and internationally at Canada's Tuckamore Music Festival and the Osaka International Chamber Music Festival & Chamber Competition.
In spring 2015, the Quintet looks forward to the world premiere of the very first concerto for string quintet and orchestra—entitled BEATBOX—written by the acclaimed American composer Dan Visconti. The commissioning orchestras, who will present these premiere performances, include the South Carolina Philharmonic, Midland Symphony of Michigan and the Duluth Superior Symphony Orchestra.
Sara Chase
Sara Chase is currently a cast member in the new Tina Fey created series Unbreakable Kimmy Schmidt released on Netflix. She also recently starred in Broadway's First Date and off-Broadway in The Toxic Avenger and can be heard on their original cast albums. She also won the Best Supporting Actress award from the San Diego Theatre Critics for playing all three mistresses in First Wives Club the Musical in their pre-Broadway run.
On television, Chase appeared as a regular on Comedy Central's Michael and Michael Have Issues opposite Michael Showalter and Michael Ian Black. Other appearances include "The Office" "Mercy" "Arrested Development" and in the films "The Other Guys" "Arthur" "Hello I Must Be Going" and "Little Black Book."
Chase is from Hartford, CT and is a graduate of Boston University's College of Fine Arts. After graduation she performed the two-woman sketch comedy show "Jen & Angie" at the Upright Citizens Brigade Theatre in New York and Los Angeles. Her comedy sketches have been seen in the Women in Comedy Festival, NY Comedy Festival, and UsWeekly.com.
Rupert Boyd
Australian guitarist Rupert Boyd is acclaimed as one of the most talented guitarists of his generation. He has been described by The Washington Post as "truly evocative," and by Classical Guitar Magazine as "a player who deserves to be heard." His performances have taken him across four continents, from New York's Carnegie Hall, to the Barcelona Guitar Festival in Spain, Strings-139 Festival in China, Festival de Musique Classique in France, and every state and territory in mainland Australia.
In addition to his recent Carnegie Hall debut as part of the D'Addario Music Foundation's "International Competition Winners in Concert" Series, Rupert Boyd has performed at the most prestigious concert halls in New York City, including the 92nd Street Y, Merkin Concert Hall, Bargemusic, the New York City Classical Guitar Society and the Cathedral of St. John the Divine (the world's largest Gothic cathedral). He has worked with a diversity of groups such as New York Festival of Song and Moving Theater Dance Company, and has given solo recitals for the Boston Guitar Society, the Marlow Guitar Series in Washington, D.C. and the Newport Music Festival in Rhode Island.
Rupert Boyd's debut recording Valses Poéticos received the following review in the UK magazine Classical Guitar: "The performances that Boyd gives here are first-rate... Even the Bach is one of the best of its kind." Soundboard, the Guitar Foundation of America's quarterly publication, gave the CD the following review: "Boyd's playing is beautifully refined, with gorgeous tone… musically and technically flawless… the album is first-rate." Soundboard also described the eponymous work by Granados as "one of the best recorded performances of this work on guitar."
A love of chamber music led Rupert Boyd to form the Australian Guitar Duo with guitarist Jacob Cordover. The duo has performed throughout the world, including appearances in the United States, France, Spain, China, the Philippines and all throughout Australia. The duo was a prizewinner of the Chamber Music section of the Australian Guitar Competition, and their debut CD Songs from the Forest was released in March 2012 and was described as "wonderfully entertaining" by Classical Guitar Magazine, and "very impressive" by Soundboard Magazine.
In addition to winning the Andrés Segovia award from the Manhattan School of Music, Rupert Boyd was a winner of the Lillian Fuchs Chamber Music Competition and winner of the Eisenberg-Fried Concerto Competition, the latter of which resulted in a performance of Rodrigo's Concierto de Aranjuez with orchestra.
Video:
Full Force Dance Theatre
Full Force Dance Theatre has presented modern dance to audiences of all ages, coast to coast since 1992. Originally formed in San Diego, California, it's mission has been to promote the creative vision of its director and primary choreographer, Katie Stevinson-Nollet; to present high quality, creative and innovative work by both professionally distinguished choreographers as well as up and coming young artists to the community in accessible and affordable programs; to explore the creative process of dance making; to develop the collaborative process between dancers, choreographer, and musicians; and to provide professional experience, training, and performance opportunities to local Hartford dancers.
Works created for FFDT programs have been created by such guest choreographers
as Peter Sparling, formerly with the Graham company, Mary Cochran, formerly of the Paul Taylor Dance Company, Monica Bill Barnes, director of Tour Bill, Jean Isaacs, director of San Diego Dance Theatre, Patrick Nollet of California Ballet and former director of Three's Company in San Diego, and several emerging choreographers from around the country. The company has provided professional experiences to over thirty young dancers. Some of which have gone on to dance with major companies such as the Paul Taylor Dance Company, Neta Pulvermacker and Dancers, San Diego Dance Theatre, Janis Brenner, and Malashock and Dancers. Stevinson-Nollet, has provided the company with over twenty premiers, presented in five states and three countries. She has used the company as a vehicle to present new and innovative work combined with traditional foundations.
---
buy tickets

for this show ›