back to calendar ›
Gin Blossoms
Hartford
DETAILS
Sun, February 26, 2017
Hartford, CT
Show: 7:30 PM
Ticket INFO
Price: $34 - $79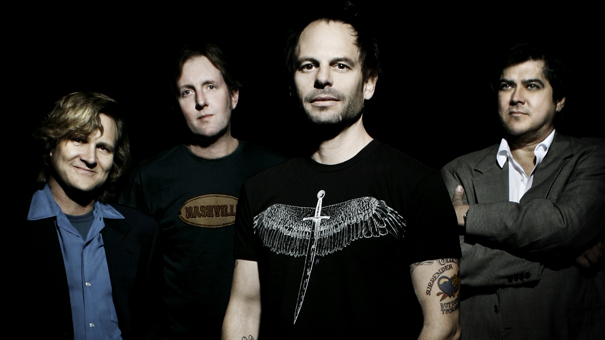 You know the hits, "Hey Jealousy," "Til I Hear It From You," "Follow You Down," "Found Out About You," – I could go on, but you get the hint. Come see the multi-platinum selling Gin Blossoms play all of your favorites and more as they make their Infinity Hall Hartford debut!!
Gin Blossoms
Video:
Artist Bio
Bio: For more than two decades, Gin Blossoms have defined the sound of jangle pop. From their late 80s start as Arizona's top indie rock outfit, the Tempe-based combo has drawn critical applause and massive popular success for their trademark brand of chiming guitars, introspective lyricism, and irresistible melodies. Gin Blossoms soon unfurled a chain of crossover favorites spanning five different formats, from "Hey Jealousy" and "Until I Fall Away" to "Follow You Down" and the GRAMMY®-nominated "As Long As It Matters," earning the band sales in excess of 10 million in the US alone.
"It's a really rare thing," singer/guitarist Robin Wilson says of Gin Blossoms' continuing saga. "So many chapters in this long story."
Wilson, guitarist Jesse Valenzuela, and bassist Bill Leen co-founded Gin Blossoms in 1987 and quickly became the toast of the Grand Canyon State's local scene. Blending an array of influences – from The Beatles and The Byrds to The Band and The Buckaroos – with pure pop songwriting and their own post-adolescent energy, the band hit upon a truly thrilling sonic approach that instantly set them at the forefront of the always-adventurous American underground.
"A lot of it was really folk based," Valenzuela says. "Some of it English, some American. Then we'd just play it too fast and too loud."
"We were on a course," Wilson says, "inspired by our influences. The bands that unified us were our forefathers like Cheap Trick and R.E.M, The Replacements and The Plimsouls. Those were bands that all of us as Gin Blossoms had in common. When people ask me, what kinda band are you in, I say, 'We're a classic rock band.'"
Having taken the local scene by storm with their magnetic live show, Gin Blossoms made their recorded debut in 1989 with Dusted. The album – released on the influential Arizona indie label, San Jacinto Records – highlighted Valenzuela and Wilson's nascent knack for preternaturally catchy hooks and vigorous musicianship. It wasn't long before the majors came a-callin', with A&M Records ultimately the lucky label to get Gin Blossoms' signature on a contract.
"They really believed in us," Valenzuela says. "They showed the support that made us a better band."
Gin Blossoms immediately released 1991's self-recorded Up and Crumbling EP and got right to work on their major label debut proper. The band hit Memphis' legendary Ardent Studio to record with equally famed producer/engineer John Hampton (The Replacements, Alex Chilton, The Cramps), armed with such now-classic tunes as "Until I Fall Away," "Allison Road" "Hey Jealousy," and "Found Out About You," the latter two penned by founding member Doug Hopkins. Sadly, Hopkins was asked to leave the band before the album's completion and later took his own life. Lead guitar duties were then taken up by Scott "Scotty" Johnson who promptly put his own indelible six-string imprint on the band's guitar-driven sound.
Justly regarded as one of the era's milestone works, New Miserable Experience earned critical acclaim upon its 1992 arrival before exploding into the popular consciousness. "Hey Jealousy" was one of 1993's essential singles, ruling the top 5 at Mainstream Rock radio before ascending to the top 25 on Billboard's "Hot 100." The following year saw "Found Out About You" reach equivalent height on the "Hot 100," while also eclipsing its predecessor by reaching the #1 spot on Billboard's "Modern Rock Tracks" tally.
Gin Blossoms toured hard as they wrote their next album, scoring still another smash in the meantime with "Til I Hear It From You," the first single from A&M's Empire Records: The Soundtrack. The unforgettable track – written by Valenzuela, Wilson, and the great singer/songwriter Marshall Crenshaw – was hailed by Billboard as "the closest thing to a perfect pop song to hit radio in recent memory," and as such, duly rose all the way to the top 10 on Billboard's "Hot 100."
"I liken it to a chair," Wilson says. "A big gothic throne or a mid-century antique is different from what you can get for $15 from Target, even though they work exactly the same way. It's the same with songs – every song has the same parts, a chorus, solo, all of that, but there's something that separates something of quality from something that's not. In our case, I'd say we've got a full set of pretty decent chairs."
"Til I Hear It From You" confirmed Gin Blossoms as surefire soundtrack favorites and their songs were soon featured on the RIAA gold and/or platinum certified companion albums to such blockbusters as Speed, Wayne's World 2, and several others. The band were also inescapable presences on TV, dominating MTV and performing on such prestigious shows as Late Show with David Letterman, The Tonight Show with Jay Leno, and Saturday Night Live.
Congratulations I'm Sorry arrived at last in 1996 and immediately ascended to the top 10 on the Billboard 200, fueled in part by the top 5 single, "Follow You Down." Moreover, the album's next single, "As Long As It Matters," earned Gin Blossoms a prestigious GRAMMY® nomination for "Best Performance by a Duo or Group." Alas, the band was denied the prize as an up-and-coming young Liverpudlian combo took home the trophy in their stead.
"It was pretty cool to lose a GRAMMY® to The Beatles," Valenzuela says. "Who else would you want to lose out to?"
Having dominated radio and MTV playlists for most of the 90s, Gin Blossoms took a brief turn of the century hiatus, a provisional parting of the ways that Wilson chalks up to "personal dissatisfaction and the mistaken impression that we could perform at that same level with another group." The brief break allowed Valenzuela and Wilson to reenergize via solo recordings, new combos, and production credits for an array of local Arizona acts. However, Gin Blossoms' idiosyncratic magic proved impossible to ignore for long and on New Years Eve 2001 in their hometown of Tempe the band reconvened and never looked back.
"There's a certain civility among us now," Valenzuela says. "None of us are as brusque as we once were. We're too old to have shouting matches."
The revivified band hit the road hard, earning a well-deserved reputation as one of the busiest touring acts in the world, playing close to 150 shows a year. Those chops were readily apparent on 2006's Major Lodge Victory – Gin Blossoms' long awaited fourth album and first new recording in almost a decade. Rave reviews followed, as did a top 10 Triple A smash in the album's lead single, "Learning The Hard Way."
As ever, Gin Blossoms traveled the globe in support of Major Lodge Victory and beyond, their singular onstage power captured for posterity on 2009's Gin Blossoms Live In Concert. No Chocolate Cake, the band's fifth studio collection and 429 Records debut, proved another popular success upon its 2010 arrival, reaching #1 on the Amazon.com sales chart while also earning yet another Hot AC hit with "Miss Disarray."
Gin Blossoms' non-stop itinerary carried on, with highlights including a five-city tour of Iraq and Kuwait in 2010. In addition to innumerable headline dates, the band – now featuring drummer Scott Hessell performing alongside Wilson, Valenzuela, Leen, and Johnson – have shared the top of the bill on a pair of successful summer tours featuring an array of chart topping stars from the 90s. Summerland in 2012 was followed by 2013's Under The Sun Tour, a traveling summer festival co-headlined by Gin Blossoms alongside fellow alternative icons Sugar Ray and Smash Mouth. In 2014 Gin Blossoms headlined their own tour as well as performed a mixture of shows with Artists from classic rock to modern alternative.
"It's a good time," Valenzuela says. "The vibe is pretty loving. There are fans from the old days and fans from today. It blows my mind to see these 20-year-old kids – I'm like, 'Dude, what are you doing here?' But somebody hipped them to this music and they're there to enjoy it like anybody else."
"This is equal to anything we've done in our career," Wilson says. "I look back on the big tours we did in our heyday – playing sheds with Neil Young and The Goo Goo Dolls, touring Europe with Bryan Adams, things like that – and it was easy to take it all for granted. I'm really glad we've been able to earn our way back into that realm."
The road has also proven exceedingly fertile ground for both Valenzuela and Wilson, with each talented tunesmith promising the inevitable arrival of new Gin Blossoms material. As they approach their third decade, Gin Blossoms remain a rare breed – rock 'n' roll lifers, destined to continue creating, crafting, and performing for audiences ever rapt by their glorious catalog of material.
"David Anderle was a legendary producer and A&R guy," Valenzuela says. "He worked with everybody from Frank Zappa and the Doors to Kris Kristofferson and the Circle Jerks and he signed us at A&M. He told me once, "Y'know, you're lucky – you've created a scenario for yourself where you can go play music for the rest of your life. Isn't that what you wanted when you started?' As up and down as this might be sometimes, I'm still comforted by that."
"We're entertaining and we have chops," says Wilson, "but it really comes down to the songs. The reason we're still here is that we have good songs. When young musicians ask me for advice, what's the best thing to do to further my career, I always say, 'Write good songs.' It always comes down to that."
---
buy tickets

for this show ›