back to calendar ›
Kathleen Borkowski Art Reception
Norfolk
DETAILS
Sun, January 19, 2020
Norfolk, CT
Show: 2 PM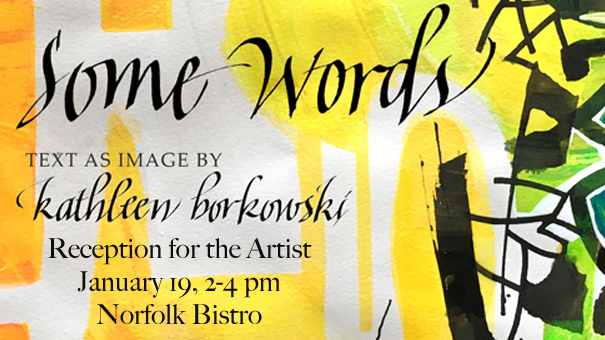 Kathleen Borowski's wonderful paintings are currently on display in the Norfolk Bistro and there will be a champagne reception for the artist on Sunday, January 19, 2-4 pm. Come join us, meet the artist and enjoy a glass of champagne and some of Chef Lisa's wonderful hors d'oeuvres. This event is free and open to all.
Kathleen Borkowski began her journey as a calligraphic artist in the 1980s. Her work developed over the past 30 years while studying with master calligraphers and artists from the United States, Britain and Europe, and by constantly honing her skills on commissioned and personal work.
As her work has extended to media like painting, including painting on silk, calligraphy has continued to be a central element in her art, even at its most abstract. Sometimes the work takes on the character of palimpsests, with many obscured layers. Other times the calligraphy is rendered so abstractly that it becomes an energetic element in the composition.
Ms Borkowski has participated in many open and juried shows throughout New England and is an active member of Masscribes (a Massachusetts regional calligraphy guild) and the Society of Scribes of New York City and Gallery on the Green in Canton, CT.
She specializes in custom calligraphy for awards and special celebrations. Some of her most notable jobs include: writing on a pink basketball for Robin Roberts, designing a humanitarian award for President Bill Clinton, and for a famous designer for New York Fashion Week.
She makes her home in Winsted, CT where she teaches calligraphy at her Whiting Mills studio and in the community.
The Paintings will be on exhibition through the end of February, 2020.
---