back to calendar ›
Peter Wolf and the Midnight Travelers
Norfolk
DETAILS
Fri, October 22, 2021
Norfolk, CT
Doors: 7 PM
Show: 8 PM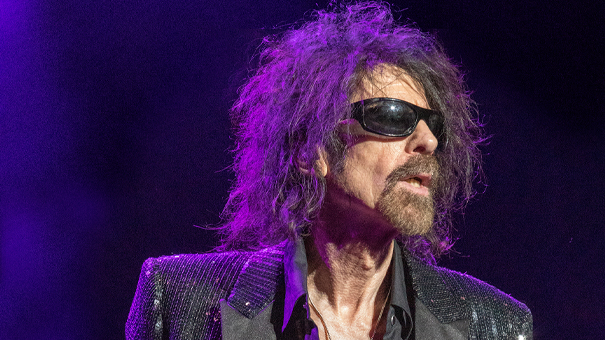 ▸ Not a member?

Join today

and receive 10% off! ▸
Per the artist, all attendees must provide proof of vaccination or a negative COVID-19 PCR test taken within 72 hours of entry, at the door. Acceptable proof of full vaccination includes a CDC vaccination card (physical card, clear photograph, or photocopy). Additionally, all patrons must wear a mask when not actively eating or drinking. If you have any questions or need additional assistance, please email boxoffice@infinityhall.com.
Peter Wolf has been known for decades as the dynamic lead singer and song writer of the J. Geils Band, with whom he showcased his talents on such hits as "Centerfold," "Freeze Frame," "Love Stinks" and "Musta Got Lost."
Wolf's musical roots precede rock 'n' roll and are inspired by his friendships and performances with such distinguished artists as Muddy Waters, John Lee Hooker and Van Morrison.
His solo career has produced critically acclaimed recordings that include duets with legendary performers such as Mick Jagger, Keith Richards, Aretha Franklin, Merle Haggard, Steve Earle and Neko Case.
Together with his distinguished band, "The Midnight Travelers", Wolf is known for his ability to create an intimate and personal connection with his audience.
DUE TO THE IMPACTS OF COVID-19, THIS SHOW HAS BEEN RESCHEDULED FROM MAY 15, 2021. IF YOU HAVE ANY QUESTIONS OR NEED ADDITIONAL INFORMATION, PLEASE EMAIL BOXOFFICE@INFINITYHALL.COM.
Peter Wolf
Video:
Artist Bio
A Cure for Loneliness manifests the same vibrant passion for music that's motivated Peter Wolf for most of his life. Growing up in an artistic, politically engaged family in the Bronx, he became an early rock 'n' roll convert after attending an Alan Freed rock 'n' roll revue that included performances by Chuck Berry, Buddy Holly, Jerry Lee Lewis, Little Richard and Frankie Lymon. His thirst for new and old sounds drove him to exploring blues, soul, country, folk and jazz, inspiring weekly visits to Harlem's Apollo Theatre and leading to acquaintances with many of the music's surviving originators.
Wolf's talent as a painter won him a grant to study at the Boston Museum School of Fine Arts. While a student there, he experienced a life-changing epiphany after jumping on stage to sing with a blues band at a loft party. He soon talked himself into membership in that band, The Hallucinations.
"I didn't join a band to meet girls," Wolf recalls. "I joined my first band to meet musicians. Painting was a fascination for me, but I was a music fanatic, and sitting in with that band was a born-again type of experience for me. I was transfixed, and myself and some of the guys in the band would check out performances by the musicians we admired so much, like Muddy Waters and John Lee Hooker and John Coltrane and Bill Monroe and the Stanley Brothers. Those roots stayed with me."
Wolf's natural loquaciousness won him a job as an all-night DJ on the fledgling FM rock station WBCN. Adopting the persona of "the Woofa Goofa," he spun raw rock 'n' roll and rhythm 'n' blues, channeling the spirit of the flashy, fast-talking DJs he'd grown up listening to.
Wolf's encyclopedic musical knowledge came in handy when he and some like-minded Boston players formed the J. Geils Band, much of whose early repertoire was drawn from Wolf's vast record collection. The band soon became a local favorite injecting a much-needed jolt of raw, uninhibited rock 'n' roll into the '70s scene and was soon signed by Jerry Wexler for Atlantic Records. Between 1970 and 1983, the J. Geils Band released 13 influential albums, topped the pop single charts with 1981's "Freeze Frame," "Love Stinks," "Centerfold," and earned a reputation as one of rock's most exciting live acts, thanks in large part to Wolf's flamboyant, hyperactive stage presence.
After going solo with 1984's Lights Out, Wolf continued to stake out new musical territory with the subsequent releases Lights Out, Come As You Are, Up to No Good, Long Line, Fool's Parade, Sleepless and Midnight Souvenirs. His solo work has seen him collaborate with the likes of Aretha Franklin, Merle Haggard, John Lee Hooker, Mick Jagger, Keith Richards, Little Milton, Wilson Pickett, Shelby Lynne and Neko Case. Wolf temporarily reunited with his J. Geils Band cohorts for live shows on several occasions between 1999 and 2015, but his solo career has remained his creative focus, as A Cure for Loneliness makes clear.
---
buy tickets

for this show ›