back to calendar ›
"Rising Star Music Festival" presented by CREC Greater Hartford Academy of the Arts
Hartford
DETAILS
Sun, September 20, 2015
Hartford, CT
Show: 1:30 PM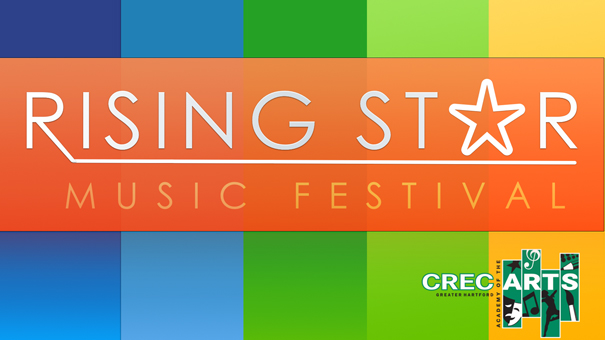 See tomorrow's stars today!! We've teamed up with the CREC Greater Hartford Academy of the Arts to showcase five emerging artists and bands. Join Jake Poulios, Savannah Freitas, Michaela Godding, Alize Barnard and Ryan Glander for an incredible afternoon filled with exciting original music and innovative covers. Performing with a versatile house band made up of their fellow students, these acts will blow you away when they take the stage!!
Jake Poulios is a senior exploring music production, composition, and voice. He recently produced Michaela Godding's debut single, "Sinking", and recently returned to perform at 54 Below in NYC for his second time. Jake is a member of the Ensign-Darling Vocal Fellowship through the Bushnell Center of the Performing Arts, also having numerous of his instrumental pieces performed by graduate students at the University of Hartford and the Hartford Independent Chamber Orchestra. His act at the Rising Stars Music Festival will include songs from his new, unreleased album.
Michaela Godding is an alumnus of the Greater Hartford Academy of the Arts, and is attending Hampshire College in Massachusetts. Last spring, she released her debut single, "Sinking", to iTunes. Michaela is also a nationally regarded slam poet, and recently competed at the Brand New Voices poetry festival with the Connecticut slam team. Additionally, she was a 2015 finalist at the Sunken Garden Poetry Festival's Fresh New Voices competition. Michaela is an avid songwriter, and will be performing original compositions at the Rising Stars Music Festival.
Ryan Glander is a senior at the Greater Hartford Academy of the Arts, pursuing education in vocal performance. He has recently conducted in a master class at City College in New York City, as well as competed and placed second in the Berklee High School Jazz Festival in the Jazz vocal group, the Real Ambassadors. Ryan has performed with Grammy Award winners Paul Winter and Paul Halley, as well as renowned Gospel vocalist Theresa Thomason. Ryan will be performing cover songs of artists that have had a heavy influence on him.
Savannah Freitas is a senior at the Greater Hartford Academy of the Arts. She is a second year creative writing student who focuses her studies on songwriting and improving her instrumental and vocal skills. Savannah is the weekly worship leader at her church on vocals and keyboard. She has graciously performed at various venues around the Connecticut area, and recently made her debut as a backing vocalist in a music festival in Asturias, Spain. Savannah is excited to share both original compositions and covers at the Rising Star Music Festival.
Alize Barnard will be studying music management with a concentration in jazz voice at the University of Hartford this fall. She studies a wide range of genres including jazz, classical, pop, and R&B. She incorporates all of these styles into one to create a unique sound combined with a powerful voice.
---
buy tickets

for this show ›