back to calendar ›
Speak Up Storytelling presents "Crazy Little Thing Called Love""
Hartford
DETAILS
Sat, February 23, 2019
Hartford, CT
Show: 8 PM
Ticket INFO
Price: $19 - $44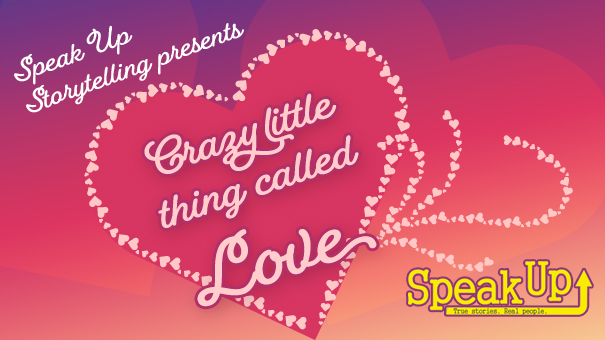 Our friends Matt and Elysha Dicks bring their next installment of Speak Up Storytelling to Hartford this February. This segment's theme is "Crazy Little Thing Called Love". Sounds intriguing to say the least and just right for the month of February!
Storytellers include:
Christopher Kriesen
Jeffrey Freiser
Laura Gordon
Sam Carley
Tracey Segara
Matthew Dicks
Eric Feeney
Speak Up is both honored and thrilled to dedicate this show to the memory of Sara Kaplan, a fan of Speak Up, a frequent audience member and workshop attendee, and an all-around lover of stories who passed away last year. Sara, a high school teacher and a lover of books as well as stories, and her husband, Ken, attended many Speak Up performances over the years and would take workshops together just for fun and the opportunity to share their love for storytelling together. There was nothing more comforting as a storyteller than to look into the audience and see Sara and Ken sitting side by side, smiling in anticipation as you prepared to speak your first line. Her passing was a great loss to her family, her friends, and our community.
We dedicate this show to Sara Kaplan with hopes that stories of her life will be told for generations to come.
A portion of the proceeds from this show will be used to offer financial assistance to allow those in need to take a storytelling workshop.
Speak Up Storytelling
Video: