back to calendar ›
Stand Up Comedians - Ophira Eisenberg, Moody McCarthy and Shaun Eli
Norfolk
DETAILS
Sun, June 05, 2022
Norfolk, CT
Show: 8 PM
Ticket INFO
Price: $28 - $38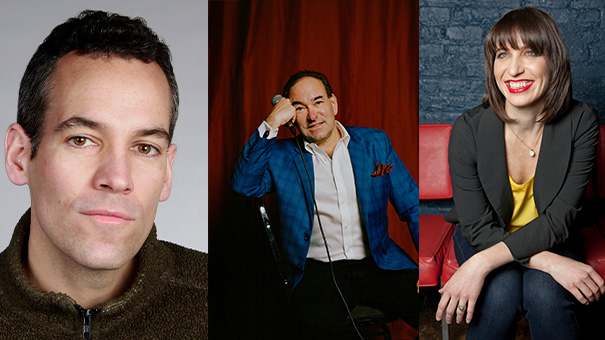 ▸ NOT A MEMBER? JOIN TODAY AND RECEIVE 10% OFF! ▸
Ophira Eisenberg bio
Comedian Ophira Eisenberg has performed on The Late Late Show with Craig Ferguson, Comedy Central, VH-1, The Today Show, TV Guide Channel's Standup In Stilettos, Fox, E! Channel, CNN, Oxygen Network, and the AXS Network. She was also the host of NPR's weekly trivia comedy show Ask Me Another. Ophira is a regular host and teller with The Moth and her stories have been featured on The Moth Radio Hour and in two of The Moth's best-selling books. Her debut memoir Screw Everyone: Sleeping My Way to Monogamy was optioned by Zucker Productions for a feature film.

Moody McCarthy bio
Moody McCarthy is a stand-up comedian who has performed on Jimmy Kimmel Live, Conan, and the Letterman Show.  He lives in New York City with his wife and two wee lasses.
Moody has performed at the best clubs in the land and can be heard on SiriusXM.  He's also been featured on America's Got Talent and Last Comic Standing, but gets asked more about his "House Hunters" episode.
Moody was born "Matthew" into a big Irish family where - by law - someone gets a nickname.  He began doing comedy in Upstate New York in the 1900s, and covered sports on Syracuse's top radio show before moving to New York City.
Moody's material is described as original but universal, and smart without being trite.  Couple that with a disarming stage presence & in-the-moment chops, you'll see why he's earned the admiration of his peers for his ability to "go up cold".  Corporate outings, fundraisers, private parties – you name it, this versatile performer will brighten any event.
Moody McCarthy: few people hate him!

Shaun Eli bio
Stand-up comedian Shaun Eli has rightfully been called one of America's smartest comics. Whether it's a story about dining with a vegetarian or successfully fighting a parking ticket in criminal court, master storyteller Shaun Eli shows you that there's hilarity in the ordinary if you approach life with a comedic warp. Job interviews? How about the Ten Commandments? For just about anything he's experienced he has hilarious stories at the ready. With a sense of humor that's both cheerful and universal Shaun has headlined shows on five continents. In 2021 he was the recipient of a major profile in The New York Times.
The Ivy League of Comedy is the premier group of stand-up comedians touring America. Known for their elite brand of clever comedy, you've heard their brilliant comedic voices on late-night TV and Comedy Central. Now come see them live on stage!
The Ivy League of Comedy honors audiences with original, well-written comedy that doesn't resort to playing on stereotypes or picking on the audience. From theatres to corporate events to fund-raising shows for charities, The Ivy League of Comedy brings you stand-up comedy's funniest and brightest.
This hilarious comedy show is as perfect for entertaining your clients as for a great date or a casual night out with friends. Wouldn't you rather be the one talking about the show instead of just hearing about it later? Don't be disappointed that you missed out. Buy your tickets now!
---
buy tickets

for this show ›