back to calendar ›
XEB (original members of THIRD EYE BLIND) performing the best of 3EB w/ Stocklyn
Infinity Hartford
DETAILS
Fri, June 22, 2018
Hartford, CT
Show: 8:30 PM
Ticket INFO
Price: $19 - $39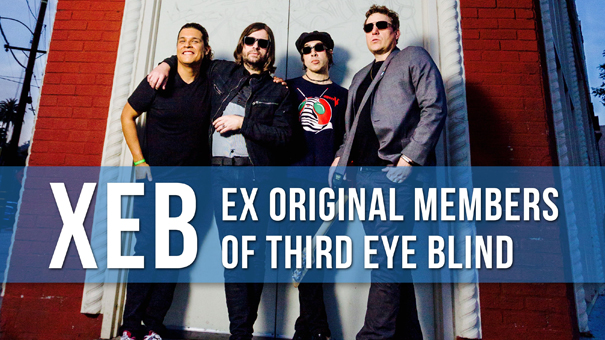 XEB is the next step in the Third Eye Blind arch of musical wonder. A band that rose to international fame with mega hits like "Semi Charmed Kind of Life" and "Jumper" has evolved into a new and improved version of itself. They still play all the hits, but now it's just under a new name! Come support some incredible artists and join them on their new journey in this musical life! Tickets are going to go FAST!
VIP includes: early entry into the venue, access to XEB's soundcheck (where they will perform exclusive rare songs) and a pre-show M&G / photo opportunity / signing with Kevin, Tony and Arion. Limited to just 25 ticket holders at $50. VIP does not include concert ticket which must be purchased separately.
XEB
Connect with this artist:

Video:
In San Francisco 1993/94, they wrote and performed under the name Third Eye Blind until Fredianelli exited the band that same year, but not before contributing musical production elements to songs on the debut such as "Motorcycle Drive By" and the hit "Semi Charmed Life". Fredianelli later contributed his signature backing vocals and guitar, ushering in a new sound for Third Eye Blind that carried through the fourth album. Fredianelli composed the music to many songs on the certified gold album 'Out Of The Vain'. His co-authored radio hits include "Blinded", "Non-Dairy Creamer" and 2009's "Bonfire" from the #1 selling album 'Ursa Major'.
Grammy nominated Bassist and composer Arion Salazar co-wrote many songs (credited and un-credited) throughout the band's career including the hit "Never Let You Go" along with other fan favorites spanning the bands career. Salazar is credited as a producer on Third Eye Blind's 'Blue' and 'Out Of The Vein' albums and is known for his signature use of double/effected bass tracking and vintage keyboards.
Stocklyn
"Rock N Roll isn't supposed to save your soul. It's supposed to make you sweat."
That's what Stocklyn is all about. The brainchild of rock-guitar virtuoso Will Boreing, Stocklyn bypasses heart and goes for the gut. Stocklyn is swampy. Stocklyn is loud. Stocklyn plays without inhibition or shame.
Led by Boreing's blistering guitar and powerhouse voice and fortified by Davis Draughon's driving bass and Blake Vera's concussive drums, this rock trio gets sweaty – and dares their audience to do the same.
The band has played with such acts as Scott Weiland and The Wildabouts, Highly Suspect, Blondfire, Last International, Bowling for Soup, Jackyl, and Stone Foxes.
They have played sold out shows from Los Angeles to New York City, bringing their authentic, explosive sound to such iconic venues as The Viper Room (LA), Blue Light Live (Lubbock), Mercy Lounge (Nashville), El Rey Theatre (LA), Southport Hall (New Orleans), Gramercy Theatre (New York City), and many more.
The band's first, self-titled EP was produced by Grammy Award winner David Hodges on his Sleepwalker Records label. The EP captures the fire and energy that Stocklyn transmits on stage. It's a recording with sultry vocals and unforgettable guitar riffs from Will Boreing that is a definite "do not miss".
As Thomas D. Mooney wrote in New Slang, "They're an audacious guitar driven strut. It's loud, sweaty, near the edge of excess, and on the cusp of chaos; it's the way rock and roll was meant to be played."
You do not want to take Stocklyn lightly. You can't. It's a Rock band that will grab you, make you raise your fist, and yell for more.
No saccharine. No sentimentality.
We're Stocklyn. We play Rock N Roll, and we mean it.
Get sweaty.
Video: